If you are not comfortable with smoking cannabis, we understand. You can relax, there are a number of THC or CBD laden cannabis infused drinks and other products that you can consume and enjoy without having to smoke them.
Cannabis Consumables – Cannabis Infused Drinks
Popularity is rising for the use of dry herb diffusers, cannabis edibles and cannabis infused drinks as an alternative to smoke.
For refreshing summer hydration, try Veryvell's lemon sparkling water, THC: 0.50% CBD: 15.00% or A1-Summit's lemonade iced tea, THC: 10.00% CBD: 1.00%. A delicious blend of sparkling lemon for "sparkling water", and an interesting combination Lemonade and iced tea. Didn't Arnold Palmer invent a similar drink? No doubt he did, but it was not a cannabis infused drink.
Try a zing of refreshing citrus – lemon, lime or mango – Everie CBD premium sparkling beverage is zero THC. A great pick-me-up in the Summer heat.
On the flip, for zero CBD and 2.50% THC, our Houseplant Grapefruit is a naturally flavoured cannabis infused drink of sparkling water, extracted from Houseplant's sativa dominant strain. Sativa strains are known for reducing anxiety and increasing creativity and focus, a writer's fav! Kill two birds with one stone, enjoy the brilliant taste of our Grapefruit flavoured cannabis infused drink as well as reducing any anxiety you may be feeling today.
Another star on the rise to fame is our THC powder. This product dissolves in seconds, is flavourless and only takes 15 minutes to absorption. TGOD's THC powder equals 4.5 times the absorption versus cannabis oil. THC powder can be sprinkled into your favourite beverage or sprinkled onto comfort food. The powder is conveniently sealed into individual packets for precise portions of 10 mg THC.
Our Most Popular Cannabis Infused Drinks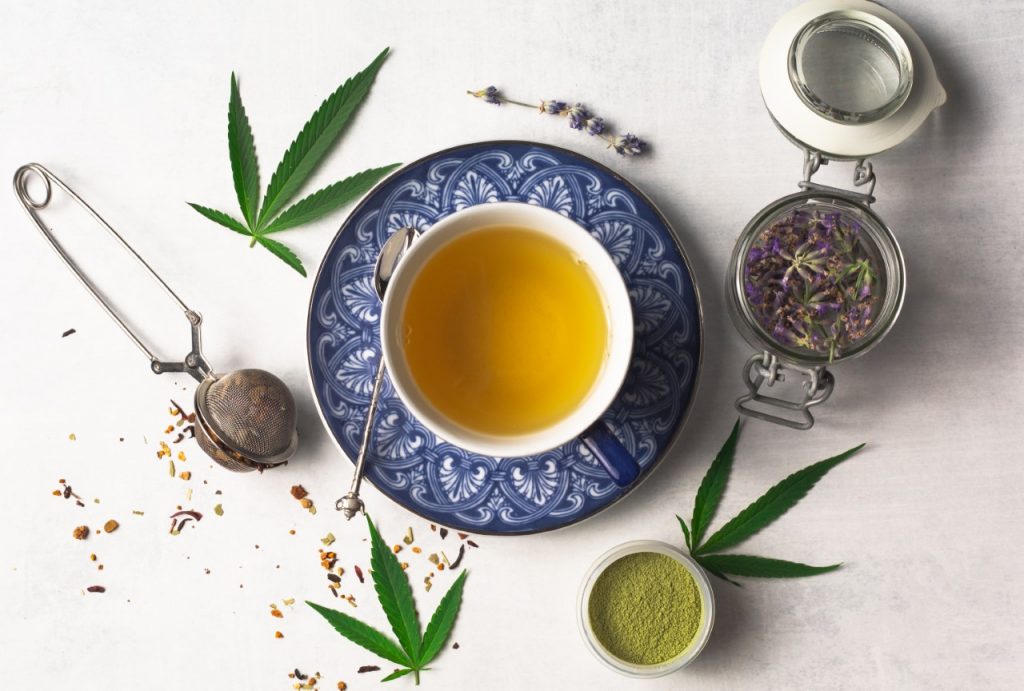 No. 150 Peace Tea: Peace out with our decaf green tea blended with rose and jasmine petals delivering unparalleled floral scent while you enjoy your cup of 20 mg CBD and trace THC.
Tweed's Bakerstreet & Ginger: THC: 2.0% CBD: 1.0%. Distilled cannabis infused drink with ginger ale. Balanced light taste, not too fizzy, and with the addition of ginger, it's gentle on the digestion. Uber popular for drinkability and relaxation.
Happy Hibiscus Mate Tea: We know you'll enjoy the intense English garden aroma while your cup of Happy Hibiscus tea is steeping. The ultimate comfort drink for cool nights and a Jane Austen novel.
Is there a product you would like to try?
Browse online on our website for more cannabis infused drinks and teas or call us for information. We love answering your questions and sharing our industry knowledge.
Interested in brewing your own tea? Read our article: Cannabis Tea 101 – How to Make Cannabis Tea
Explore Our Beverages Online
Follow Us On Facebook